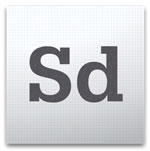 Thanks to a message tweeted by my former work colleague Mike Tempest, I've recently discovered Adobe Shadow.
Shadow is a tool which takes the Web page you're currently viewing in Chrome on your desktop, and automatically displays that same page on your iOS and/or Android devices.
This is a godsend to anyone building mobile or responsive sites, as it means you'll be able to make some changes to a page, hit refresh on your browser, then without needing to touch anything else, your devices will automatically refresh and show the changes. No longer will you need to do separate mobile testing, because it happens in real time as you're working on the site.
I've not yet used it in anger (that will probably happen when I try to fix issues with the mobile layout on this site), but the brief test I did using my Android tablet and phone showed very promising results.
Just about the only complaint I have is the lack of support for Firefox. I use Firefox for development because I prefer Firebug over that of Chrome Developer tools, and I doubt that I'm alone in that opinion, so if they did release an add-on for Firefox, it would make me, and a lot of other developers, a very happy boys and girls.
All in all, Shadow is one of those ideas that is so awesome, I'm honestly surprised that no one thought of it sooner.