I don't know if there is a term for what I am – Applephobic maybe – but I hate Apple.
I'm about as PC as PC can get (and I'm not talking about being Politically Correct). In my opinion, the only thing Apple is good at is producing shiny tat that costs twice as much, and yet has half as many functions, as their competitors.
Sure, everything that Apple does looks very nice (if you like that style, if not, you're totally out of luck), and their products' interfaces are always very easy to use for beginners, but anyone with half a ounce of intelligence will soon outgrow what Apple has to offer, and start to feel frustrated at their lack of control. This is pretty much what has happened with my iPad.
Out with the old…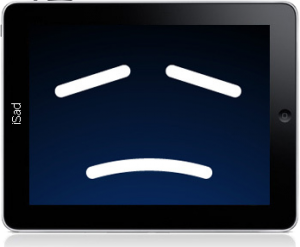 When the iPad was first announced, I remember feeling very angry at its lack of multitasking, and had this whole rant to myself about how Apple were failing to treat their customers like adults.
A few months later, after some of the things I objected against were fixed, I decided that I wanted a tablet computer, and, at the time, the iPad was the only real option. I should have heard the alarm bells as soon as I discovered that you need to use iTunes to activate your iPad, as I had thought the iPad was a stand-alone device, but it turns out it is just an extension of iTunes.
To be honest with you, this wouldn't even bother me if it wasn't for the fact that, on the whole, iTunes is some of the worse software I've ever encountered. iTunes is guilty of everything from performance issues, to deleting your entire media library. Even if iTunes was good, I would rather it be a choice, than something which is forced on me… why lock the file-system off?
The other thing about Apple is that they're not set-up as an innovative company – they're set-up as a company that lets new features trickle out, just in time for people to spend money on the latest piece of hardware. Siri, the new personal assistant application is an iPhone 4s exclusive. It has been proven that Siri runs just fine on the iPhone 4, so why not let iPhone 4 customers use it? I'm not saying that Apple should give it away for free, I would be more than happy for them to charge for the application, but Apple would rather they spend between £500 and £700 for the new hardware.
All of this leads me up to the last couple of months, during which time I've been getting increasingly upset with with my iPad. Some apps were refusing to start, others were constantly crashing (without giving an error message), and it was crawling along at a snails pace. It seems to me that the developers of iOS5 didn't give enough consideration to the first generation iPads, but probably don't care, because they would rather you just by an iPad 2.
…in with the new
All of this has resulted in my jumping from the sinking HMS Apple, and the purchasing a new tablet – the Asus Transformer Prime – an Android 4.0 powered workhorse of a tablet PC.
The thing that attracted me to the Transformer Prime is the detachable keyboard. For a while I've been thinking about getting a new netbook, specifically something with a keyboard, for the purposes of content creation. At one point I was interested in the Dell Inspiron Duo, but, as much as I love Microsoft, I don't yet trust their abilities when it comes to touch screen interfaces (I'm interested in seeing how well the Windows 8 interface works). And I'm glad I waited, because the Transformer Prime truly does offer the best of both worlds.
I've had the device for less than 24 hours so far, so while I'm not able to give a full and complete thumbs up, from what little I have played with it so far, I'm very happy with it, and it already blows my iPad out of the water.
And now for something completely different
Anyway, maybe an Apple bashing post wasn't the best way to start my new blog, but it was on my mind, so I figured I would let it out. Welcome to my new site